Verzenden en Bezorgen
Heeft u Bestelt en betaalt u op werkdagen vóór 23:00 uur, dan zorgen wij ervoor dat uw bestelling de volgende dag op de post gaat! Vanaf dat moment ligt uw bestelling bij PostNL, in 95% van de gevallen zorgen zij ervoor dat u uw bestelling binnen 1 - 2 werkdagen in huis heeft. Een bestelling naar België heeft u doorgaans na 3 - 4 werkdagen in huis. Wij bieden alleen gratis verzending in Nederland.
Hieronder vind u een indicatie van onze bezorgdagen in samenwerking met Post NL.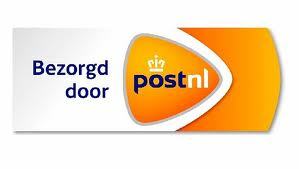 Bezorgdagen 
Bezorgdagen Post NL Brievenbuspost / Brievenbuspakje / Pakketdienst NL - BE:
| | | |
| --- | --- | --- |
| Besteld vóór 23:00u  |  Levering Nederland |  Levering België |
| Maandag: |  Dinsdag of Woensdag |  Vrijdag |
| Dinsdag: |  Woensdag of Donderdag |  Zaterdag |
| Woensdag: |  Donderdag of Vrijdag |  Dinsdag |
| Donderdag: |  Vrijdag of Zaterdag |  Woensdag |
| Vrijdag: |  Zaterdag of Dinsdag |  Woensdag |
| Zaterdag: |  Dinsdag |  Donderdag |
| Zondag: |  Dinsdag |  Vrijdag |

PostNL bezorgt de post in Nederland op: dinsdag, woensdag, donderdag, vrijdag en zaterdag. Zondag en maandag zijn geen postdagen.

BPost bezorgt de post in België op: maandag, dinsdag, woensdag, donderdag en vrijdag. Zaterdag en zondag zijn geen postdagen.
In 5% van de gevallen kan de levering helaas soms langer duren, door vertragingen bij de afhandeling of verzending bij PostNL. In het geval dat uw pakket niet binnen de bovengenoemde tijd bezorgd is, willen wij u vragen om vijf bezorgdagen vanaf de dag van verzending af te wachten. Dit is de periode waarbinnen uw bestelling alsnog geleverd kan worden. Voor zendingen naar België willen wij u vragen om acht bezorgdagen vanaf de dag van verzending af te wachten. In het geval u de bestelling na deze periode nog niet ontvangen heeft, kunt u contact met ons opnemen via [email protected] Wij bieden u dan een passende oplossing.

Mocht u een bestelling plaatsen die niet door de brievenbus past, maar alleen met pakket post kan worden verstuurd en bent u niet thuis? Dan wordt het pakketje maximaal 3 keer aangeboden, daarna gaat uw pakketje naar de dichtstbijzijnde afhaal locatie in uw buurt en daar zal het pakketje maximaal 14 dagen liggen, voordat deze wordt terug gestuurd naar Diamtelecom ook kan u via de Post NL App een bezorgmoment uitkiezen, waarin u aangeeft het pakketje op een ander gewenst tijdstip te ontvangen.
Verzendkosten:
Wij houden niet van verborgen kosten. Wij streven naar een: wat u ziet is wat u betaalt principe. Daarom biedt Diamtelecom.com gratis verzending aan binnen Nederland.

Bent u een klant vanuit België of een ander land in Europa en wilt u graag bij ons bestellen?
Dan hebben wij een tarief als het gaat om de briefpost, wij hanteren voor heel Europa een verzendkosten van maar € 1,99! Woont u in België en wilt u, uw bestelling binnen 1 - 2 werkdagen ontvangen? Dan kunt u kiezen voor de optie: Post NL Pakketdienst met track and trace - België. Hierdoor wordt uw pakkertje extra snel bezorgd en is uw pakketje verzekerd tot € 500,00. Wij doen er natuurlijk alles aan om de kosten voor onze klanten in Europa zo laag mogelijk te houden, zodat ze met veel plezier kunnen genieten van onze producten.  
Wij willen u laten zien dat wij staan voor innovatie, met als uitgangspunt het waarborgen van een onze vele:
' Company Values '
Bent u iemand die graag wil weten waar u post blijft en dit precies wil volgen?
Dan willen wij u die mogelijkheid bieden door gebruik te maken van een van de nieuwste manieren van verzenden: het bekende Brievenbuspakje hiervoor geldt, voor bestellingen van 150 tot 250 gram een bedrag van €2,99 en voor bestellingen van 0 tot 100 gram een bedrag van €3,25. Voor meer informatie over het verzenden met het Brievenbuspakje in Nederland kunt u kijken op: http://www.postnl.nl/versturen/brief-of-kaart-versturen/verzendopties/brievenbuspakje/
(Let op: Helaas wordt verzenden d.m.v. het Brievenbuspakje alleen ondersteund in Nederland.)  
Verzending buiten Nederland en België:
Wij verzenden naast Nederland en België ook naar andere landen. Voor bestellingen buiten deze landen kunt u gerust contact opnemen met onze klantenservice.